The Four Seasons Cabo at Costa Palmas opens in 2019, unlike anything else in Los Cabos. It's in Costa Palmas, a new 1,000-acre project amid nowhere, or, rather, in a quickly developing area with little tourist prior.
This property's solitude also makes it appealing for those wishing to escape. But, before you go on your vacation, you want to learn more about the hotel and its vicinity. So, let us begin with the review.
Four Seasons Cabo Location
The Four Seasons Los Cabos is located in Costa Palmas, Mexico, on the Baja California Peninsula. It is located in the East Cape, on the Sea of Cortez, rather than near Cabo San Lucas or San Jose del Cabo. The hotel is around an hour's drive from Los Cabos International Airport (SJD), and it's another 15 minutes to San Jose del Cabo and 45 minutes to Cabo San Lucas.
The backstory of the location 
This was the first large development in the East Cape area, which was huge since it was so near Cabo Pulmo, UNESCO-listed marine preservation. The Four Seasons Cabo is being promoted as the brand's first marina resort since the Costa Palmas development will soon include a true port where customers can dock their boats.
Does the resort fit in with the neighborhood? 
The hotel's design complements the natural surroundings of the dunes, which are flanked by palo blancos, sea grapes, tortes, palms, and other native vegetation. The location seems authentically Baja, with small fishing towns and a desert oasis with cascading waterfalls.
Four Seasons Cabo Rooms
Costa Palmas Four Seasons have 141 rooms- all are 680 sq ft. sea view rooms. Isn't that great? These 141 rooms are designed into several categories- Ocean view, Prime ocean view, Ocean view with plunge pool, Oceanfront, and Oceanfront with plunge pool.
Irongate Design collaborated with TAL Studio to create the rooms. Almost all the furniture is entirely custom-made, along with the blankets made in Mexico City and Guadalajara. With an open design and ground-to-ceiling windows facing the Sea of Cortez and groomed pool complex below, you may obtain a modern and bright exterior view. The bathrooms are very large and have full ocean views.
Entry-level rooms are on the middle floor of three-story structures with balconies dispersed across the property. These accommodations are around $540. If you wish to move to a higher level with even amazing views, expect to pay at least $100 per night. Private plunge pools are available in some of the suites downstairs for an additional $100 per night.
Four Seasons Cabo On-site Amenities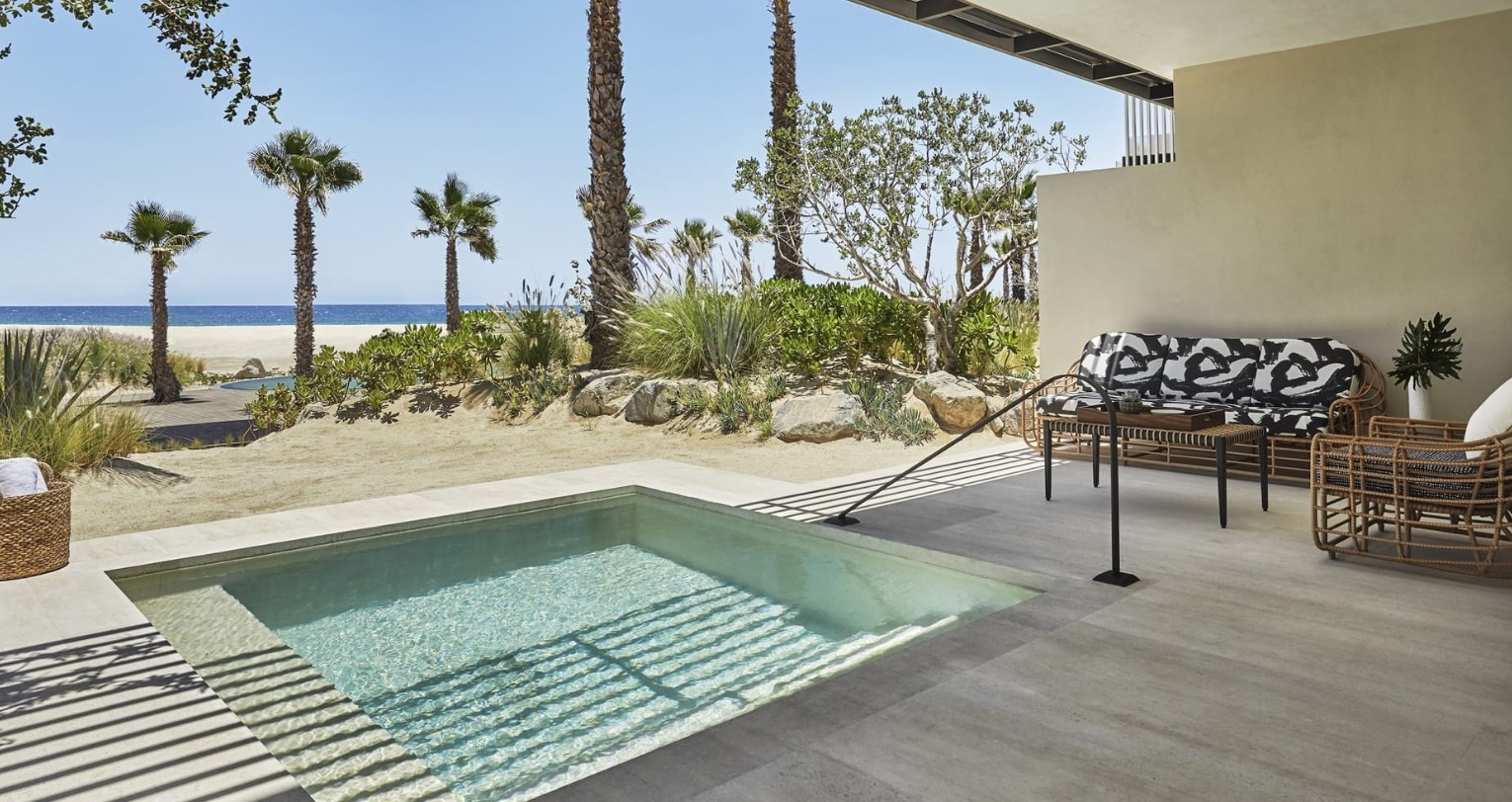 Pool Facility
The Four Seasons Costa Palmas has seven pools, many hot tubs, and private plunge pools, so this isn't a resort where you have to wake up at the crack of dawn to book a place at the pool.
There are pools in a range of shapes and sizes. The largest collection, located around one of the hotel's restaurants, is made of pebbles and sand. There is also a huge "U" shaped pool with plenty of seats. At the gym, there is also a lap pool. Quite a fantastic pool resort!
Beach
Beaches in Los Cabos are generally unimpressive and unsuitable for swimming. The Four Seasons is located on a two-mile length of beach on the Sea of Cortez that is unrivaled.
Of course, there is beach service near the hotel, with lounge chairs, umbrellas, food and drink service, and so on. Beyond there, you'll find one of the largest and most immaculate beaches. On a quiet day, the sea here is swimmable, and you may participate in water activities like kayaking, which are unavailable at other Los Cabos hotels.
Fitness Center 
The gyms at Four Seasons hotels are consistently excellent. The gym is on two levels and has both indoor and outdoor spaces.
The number and quality of equipment available here are astounding. There is a cardio section with dozens of machines. There is also outdoor cardio equipment, a large separate area with weights and strength training, and a yoga and spin room. The gym also houses the lap pool, tennis courts, basketball court, and other amenities.
Spa Facility
The spa contains ten freestanding treatment rooms (two of which are couples suites), a hydrotherapy area with saunas and steam room, a salon, a cosmetics and nails studio, and other amenities.
Kids Club 
While not as large as others, it is exceptionally well furnished and staffed. It provides a wide range of activities in addition to games and toys. The resort also features Kids for All Seasons within the Four Seasons franchise.
Food & Drinks 
The Costa Palmas Four Seasons' hallmark restaurant is Estiatorio Milos, which may be recognizable to visitors from Miami, New York, and elsewhere. This is the hotel's breakfast restaurant, and it also serves supper. There is additional beachfront seating and a bar area at this restaurant.
The Limon restaurant is fully outside and offers supper. The lovely bar, a wonderful lounge area with a fire pit, and the stretched-out tables on a rocky shoreline will make you love the restaurant's surroundings and decor.
Casa de Brasa, a poolside cafe, provides Mexican staples with a twist and an amazing tequila selection.
El Puesto is mostly a ceviche bar with breathtaking ocean views.
Ginger's is casual, offering grab-and-go options, including croissants and gelato, a pool table, and an adolescent zone with digital and physical games.
The nicest aspect for vacationing families is that children under five dine for free in restaurants and even through room service. So consider the monetary worth of that benefit alone.
Four Seasons Cabo Service 
The service in the Los Cabos region is generally excellent, and the Four Seasons Cabo is no exception. The service is authentic, polite, and proactive. In addition, the Four Seasons app has a chat option that allows you to contact the front desk for almost any reason effortlessly.
Final Words: Is Four Seasons Cabo worth it?
Yes. The Four Seasons Los Cabos is a brand-new, ultra-luxurious, super-exclusive charmer for guests wishing to escape the hordes in Cabo. If you visit here, expect to spend most of your time at the resort. The Costa Palmas property should be on your bucket list if you're a Four Seasons hotel chain fan.